ENARDO Lock-down / Gauge Hatches >>
ENARDO Gauge Hatches are used the world over to control evaporation losses and protect tanks against excessive pressure or vacuum. Our line of gauge hatches includes:
• Dead Weight Models, which are generally used in very low pressure applications with 1, 2, 3, or 4 ounce pressure settings and a 4/10 ounce vacuum relief
• Spring-Loaded Models, which are utilized in low pressure applications with 2, 4, 6, 8, 12, 16, 24, and 32 ounce pressure settings and 4/10 ounce, 1 ounce, and 3.5 ounce vacuum settings
• Lock-Down Hatches, which provide secure access but do not provide pressure or vacuum relieving capability.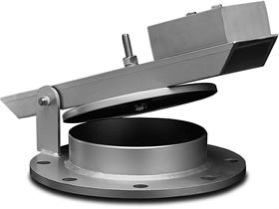 ENARDO Emergency Pressure Relief Vents >>
ENARDO's Emergency Relief Vent with Vacuum provides an emergency pressure relief opening for storage tanks when exposed to overpressures not handled by standard tank vents. When properly sized, this vent provides the capacity meet API Standard 2000 NFPA 30 and OSHA (29 CFR 1910.106) for emergency venting due to fire exposure, and offers high-capacity vacuum flow for emergency pump-out of product. It also provides quick, easy access for tank inspection and maintenance.
ENARDO Free Vents >>
ENARDO's Free Vents are designed for use on bulk liquid storage tanks that contain non-volatile liquids. These vents offer efficient flow capacity to protect the tank from positive or negative overpressure, and allow vapors to flow freely in and out of the storage tank. It offers protection against rain, dirt, insects and other foreign matter entering the vent.
Discuss ENARDO in Pakistan with our specialist Nazir Baig today at nazir.baig@pearl-pk.com
Copyright © 2014 Em. All Rights Reserved.
Best viewed in Firefox 2.0 & above | Internet Explorer 7.0 & above.