Flow Products (more >>)
Emerson Asia Pacific Pvt Limited, the undisputed leader of industrial instrumentation, proudly provides the broadest array of measurement products for flow applications. Innovative Rosemount DP Flow technology enhances your flow measurement capabilities by expanding on time tested and proven technology.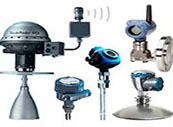 Level Products (more >>)
With so many technologies, products and parameters to consider, selecting the best technology for level measurement can be challenging. Choose from the comprehensive Rosemount portfolio of level devices for the best solution for your level application.
Discuss Rosemount Measurement in Pakistan with our Rosemount Measurement specialists Bushra Sharif and Summaiaya Fareed today at bushra.sharif@pearl-pk.com or summaiaya.fareed@pearl-pk.com
Copyright © 2014 Em. All Rights Reserved.
Best viewed in Firefox 2.0 & above | Internet Explorer 7.0 & above.